Lorraine Enwright: Lead Designer 2021 Serenbe Designer Showhouse
11/11/2021
Lorraine Enwright: Lead Designer of 2021 Serenbe Designer Showhouse
Video by Harrison Meyer of Yallah Creative, Written by Molly Brown
Each year in Serenbe, Georgia, talented builders, architects, and designers come together to create a one of a kind showhouse to exhibit the most up-to-date trends in home design. According to their website, the 2021 Serenbe Designer Showhouse has proven to be perhaps the most dramatic to date with the 3,500-square-foot home having four bedrooms, four and a half bathrooms, and a two-car– plus golf cart– garage. dk Gallery is pleased to have some of their own artists represented in this project through commissioned work as well as pieces that were hand selected from the gallery. The house itself was built and conceptualized by South Haven Builders and Serenbe Planning & Design. Lead designer Lorraine Enwright of Intuitive Dwellings took the helm of overseeing each of the designers on the project and providing significant contributions to each creative process. Enwright graduated from Auburn University with a double major in Interior Design and Architecture; she was a part of every design process from forming the bones of the house to the final creative touches that include creating the captivating staircase as sculpture. "Showhouses are really about sharing what is new and exciting in design with the public," she said. "You get a lot of passion and enthusiasm from people."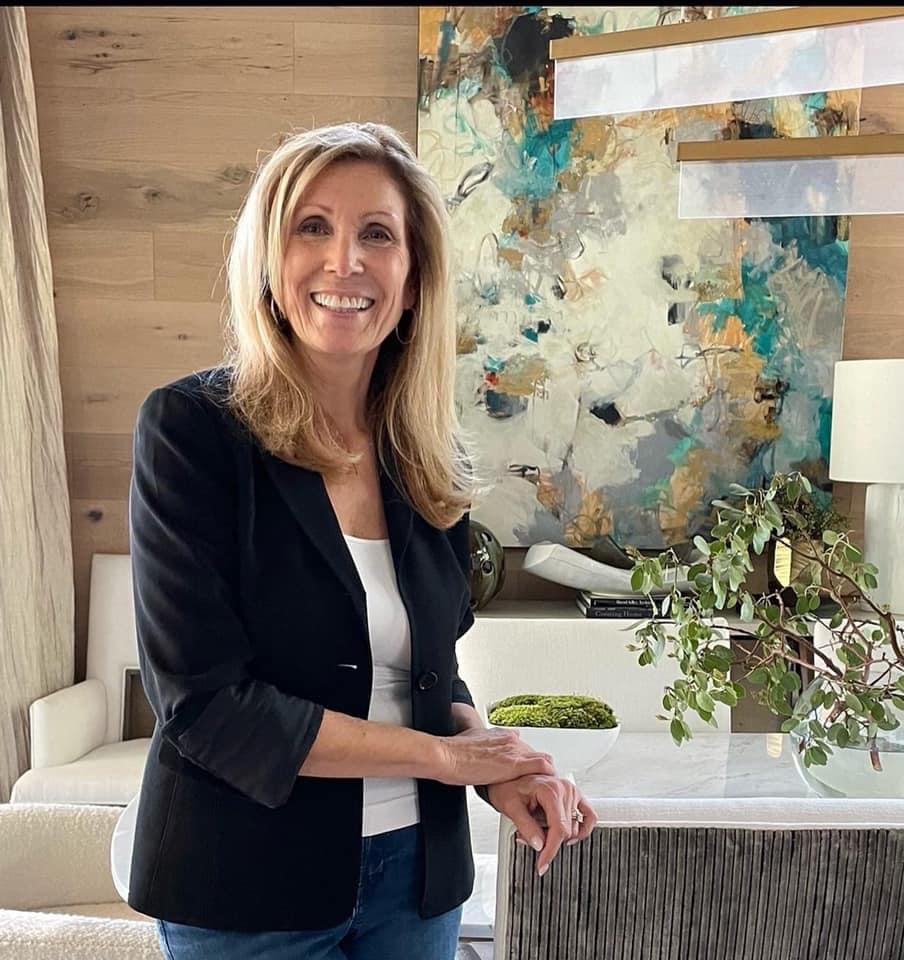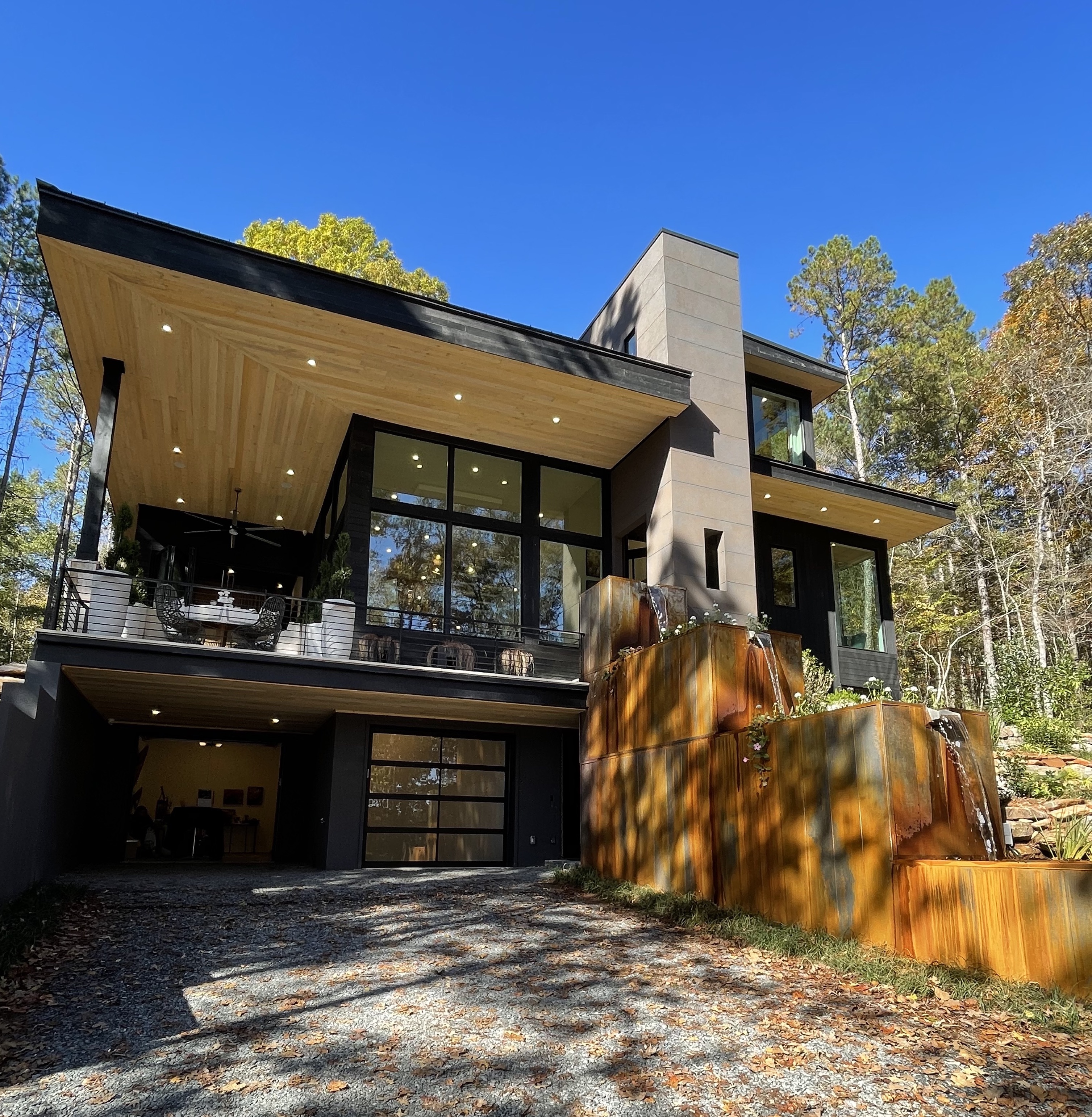 Enwright's creative process started with the architecture; after Serenbe Planning & Design created the floor plan, the team began to brainstorm what the home would look like. "We wanted to take that modern exterior style on the outside of the home and bring it inside," she explained. "We started where we always start and looked at similar types of styles and properties to get an idea of the character we wanted." The modern theme shows through the house in eclectic yet pronounced ways. Some examples would be the free floating staircase with details like glass rails to accentuate the modernity or the kitchen where the designers played with rectangular shapes and layered materials with pops of color. The team focused on combining gritty materials with more refined ones to create a distinctive contrast. This would include the pairing of concrete with mixed metals or the use of charred wood to provide a rich, dark color scheme. This comes from the ancient Japanese technique called shou sugi ban, which was originally intended to preserve wood, but has become a popular rustic element in design over the years.
Each room in the home was styled by a different designer, with some designers being in charge of two rooms. Atlanta Homes & Lifestyles Magazine is tasked with selecting designers each year and Enwright said she was incredibly thankful to work alongside such a talented team. Because the "bones" of the house have already been designed and the theme set, the designers must be able to come in and respond to what has already been done. "We definitely wanted the designers to have flexibility with their rooms because we wanted each room to have their own unique flair," Enwright said. "I think they came up with terrific solutions that made each space their own." Not only did they accomplish this, but the team was able to incorporate some features that are not seen in many homes. The showhouse does a fresh take on the kitchen by having more focus on the gathering aspect as opposed to just the food preparation aspect. Enwright refers to this as the "extroverted" space. They made the choice to separate the open kitchen area from the behind the scenes functions of the kitchen by a scullery, or a smaller room. "I have a lot of clients wanting this now, so we wanted to show that trend," she said. "Sculleries and butlers pantries have been in Vogue for a while to keep a cleaner look to the kitchen."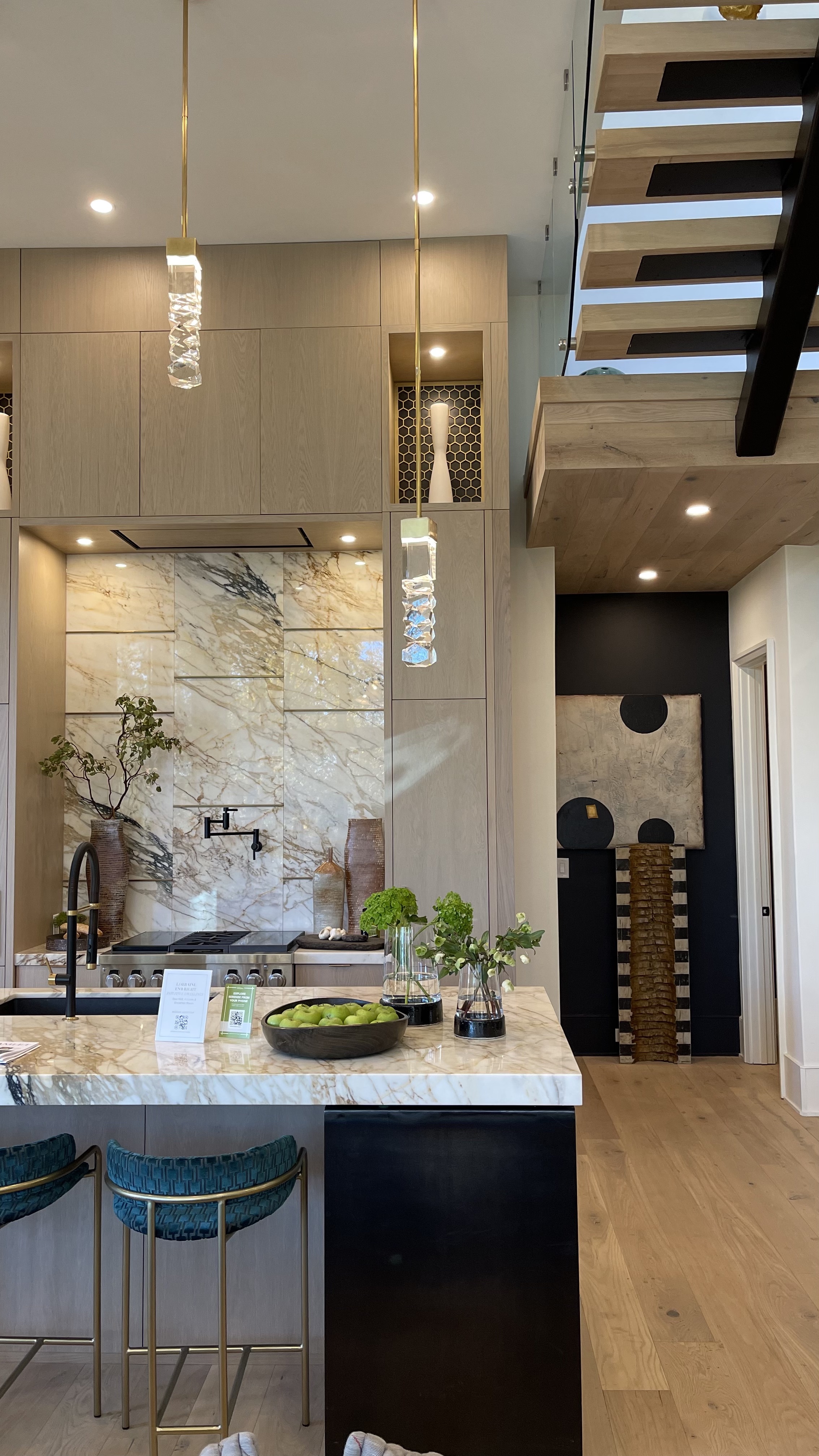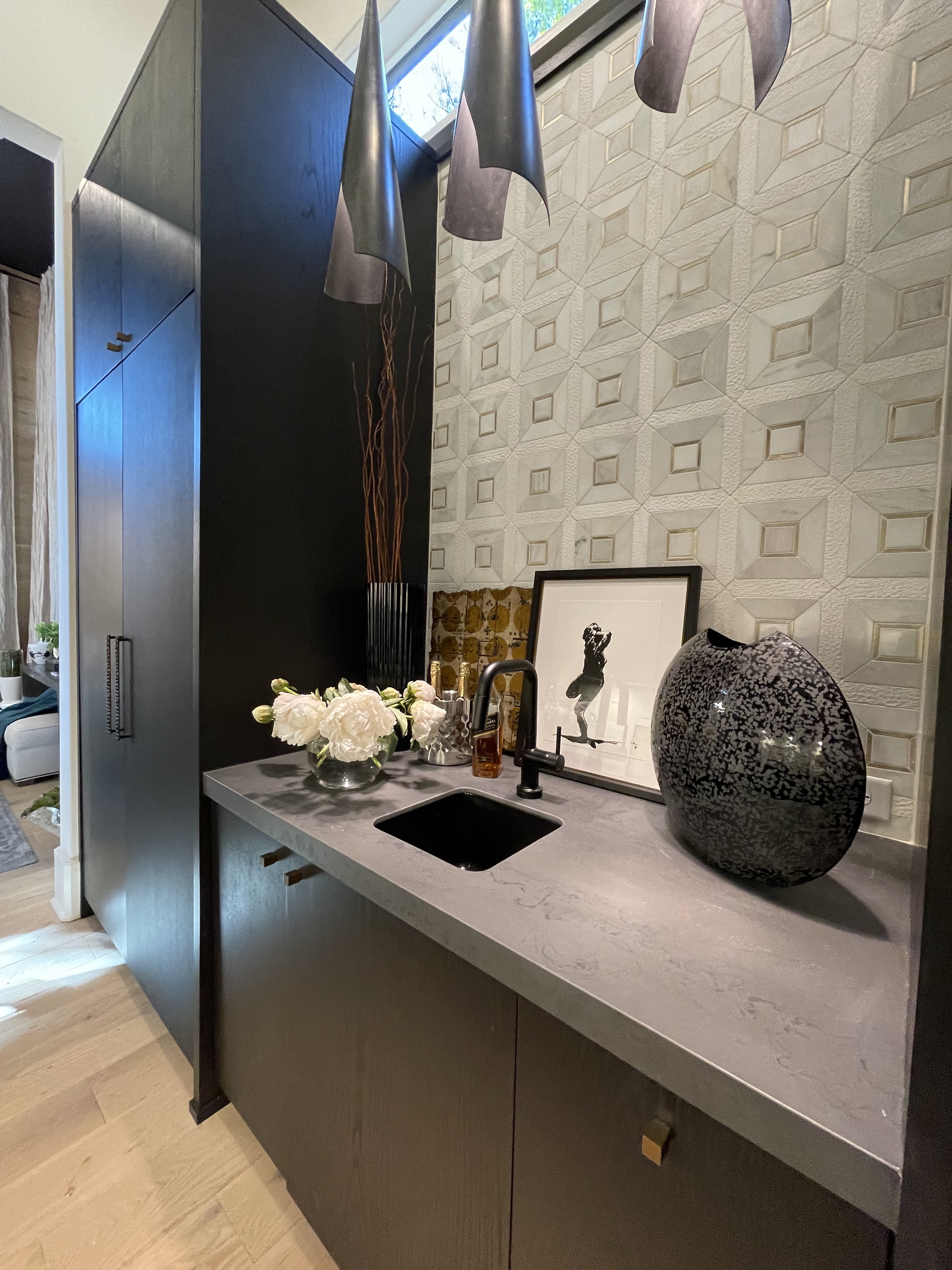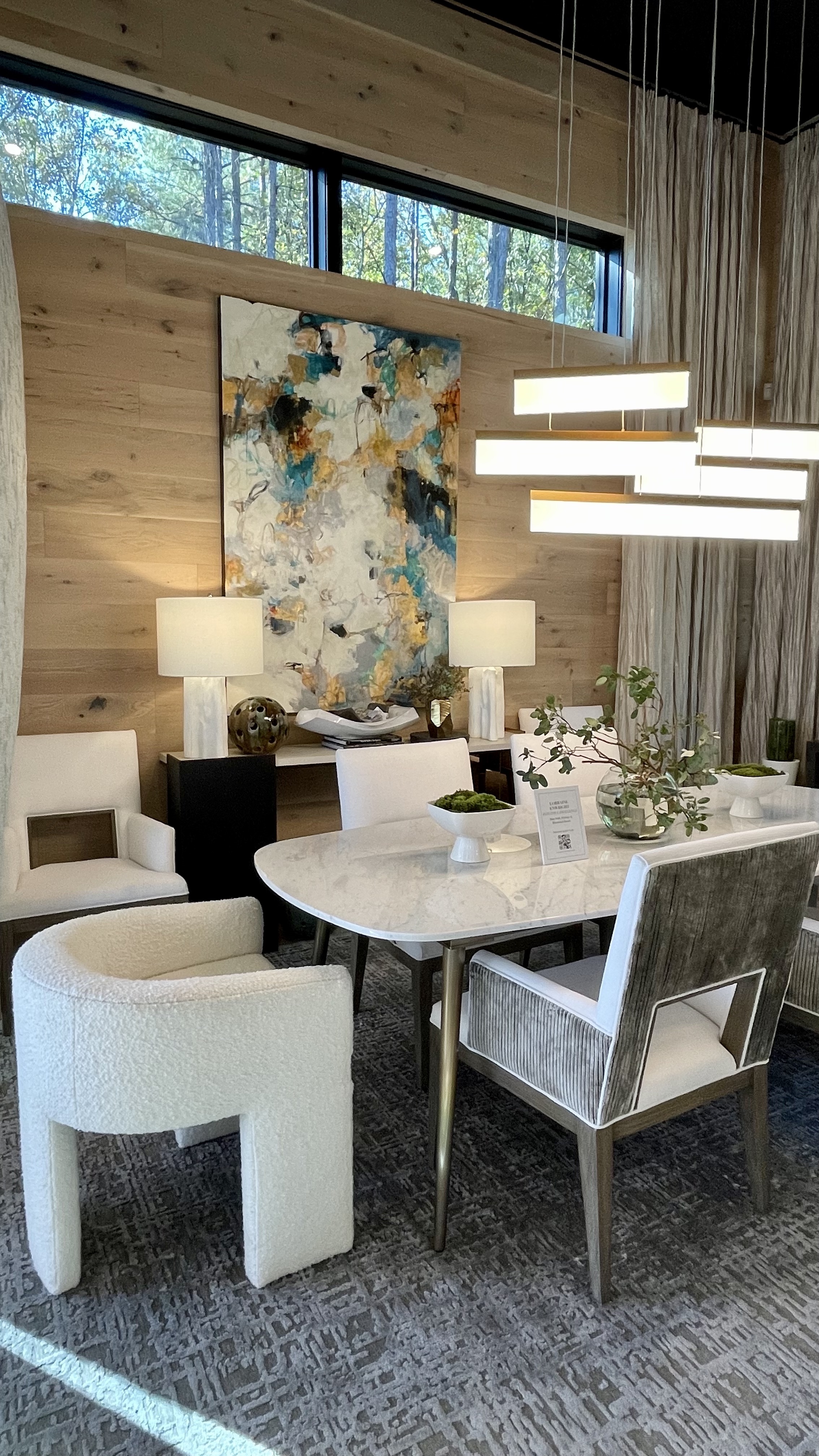 When it comes to art, Enwright believes it is the heart of a space because of the emotion it adds. "When working with a client, you are looking for what appeals to them and their emotions," she explains. "In a showhouse, the designers work with art to express the emotion of what you want the space to be." dk Gallery and its artists were honored to be able to work with Enwright and provide some pieces for the showhouse. Early on in her design process, Enwright would come to the gallery and select art that had either been set aside or pieces that she spontaneously found that fit the theme. Ginger Oglesby created canvas pieces for the project that are hung over the staircase; they wanted to create a sense of lightness with the darker colors tampering up into a lighter shade, almost as if one is ascending up the stairs. Other notable dk Gallery pieces were those of Kay Vinson's, which provided a more introverted mood compared to the staircase pieces. dk Gallery artists including Jennifer Gibbs, Holly Irwin, and Ron Irwin were able to add their own special flavor to the house as well. "That is what makes the experiences of spaces exciting because the moods change with each space," Enwright exclaimed. When she is designing, Enwright loves to create a series of moods or moments and art is good at evoking this; they are called moments because the viewer can have a different experience or emotion the moment they look at it. She believes each designer succeeded in creating a moment that was specific to the team's vision.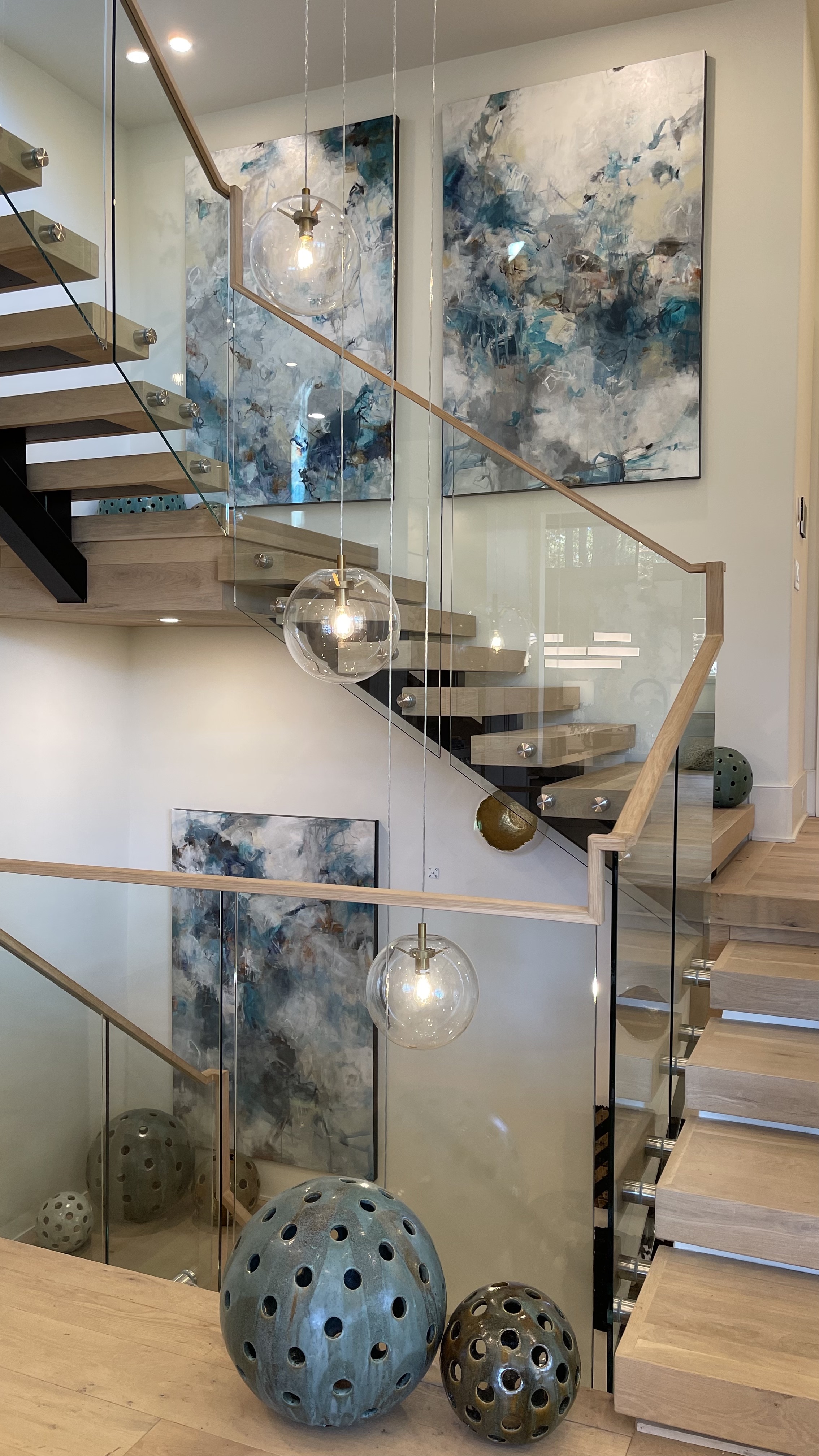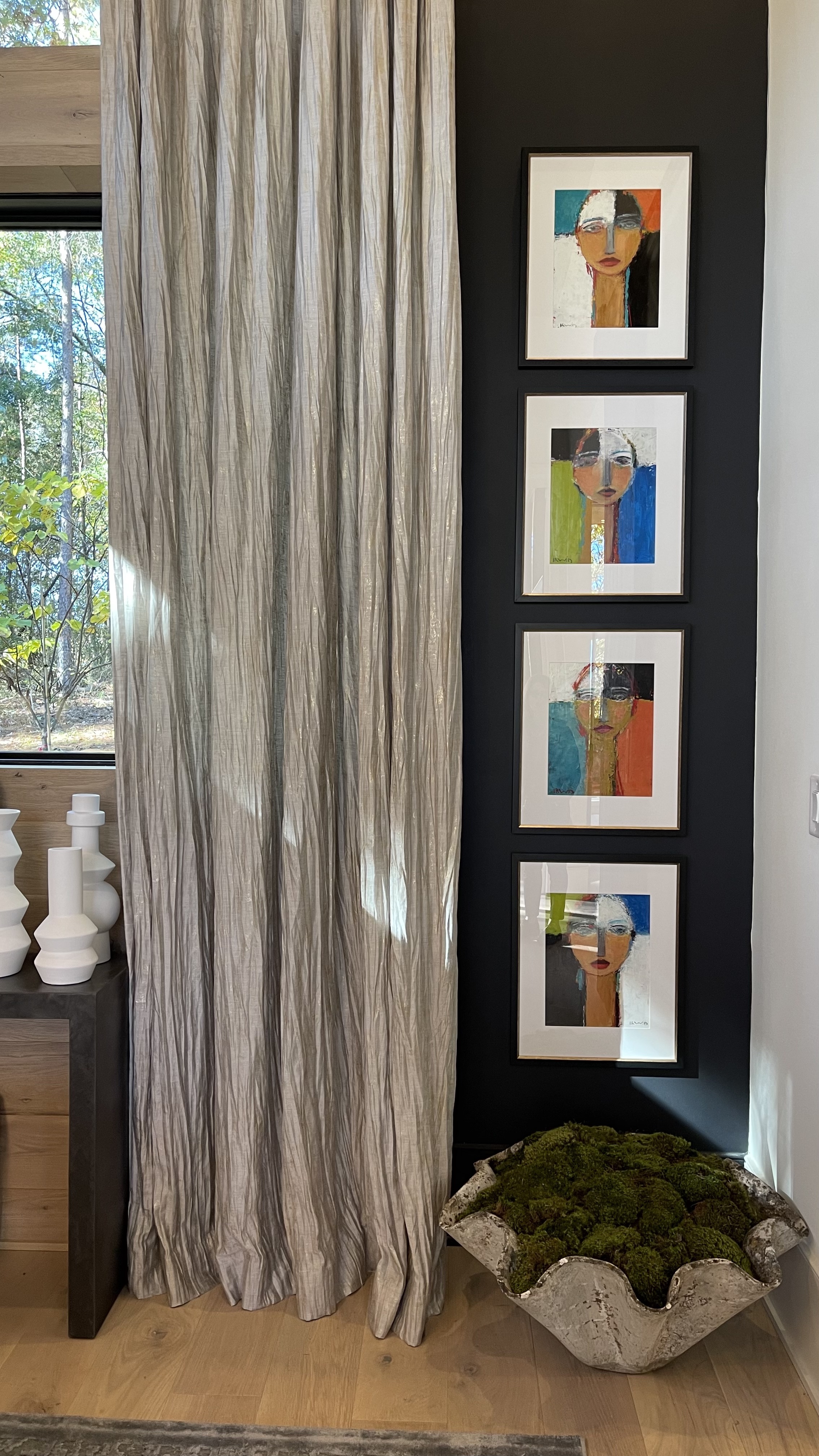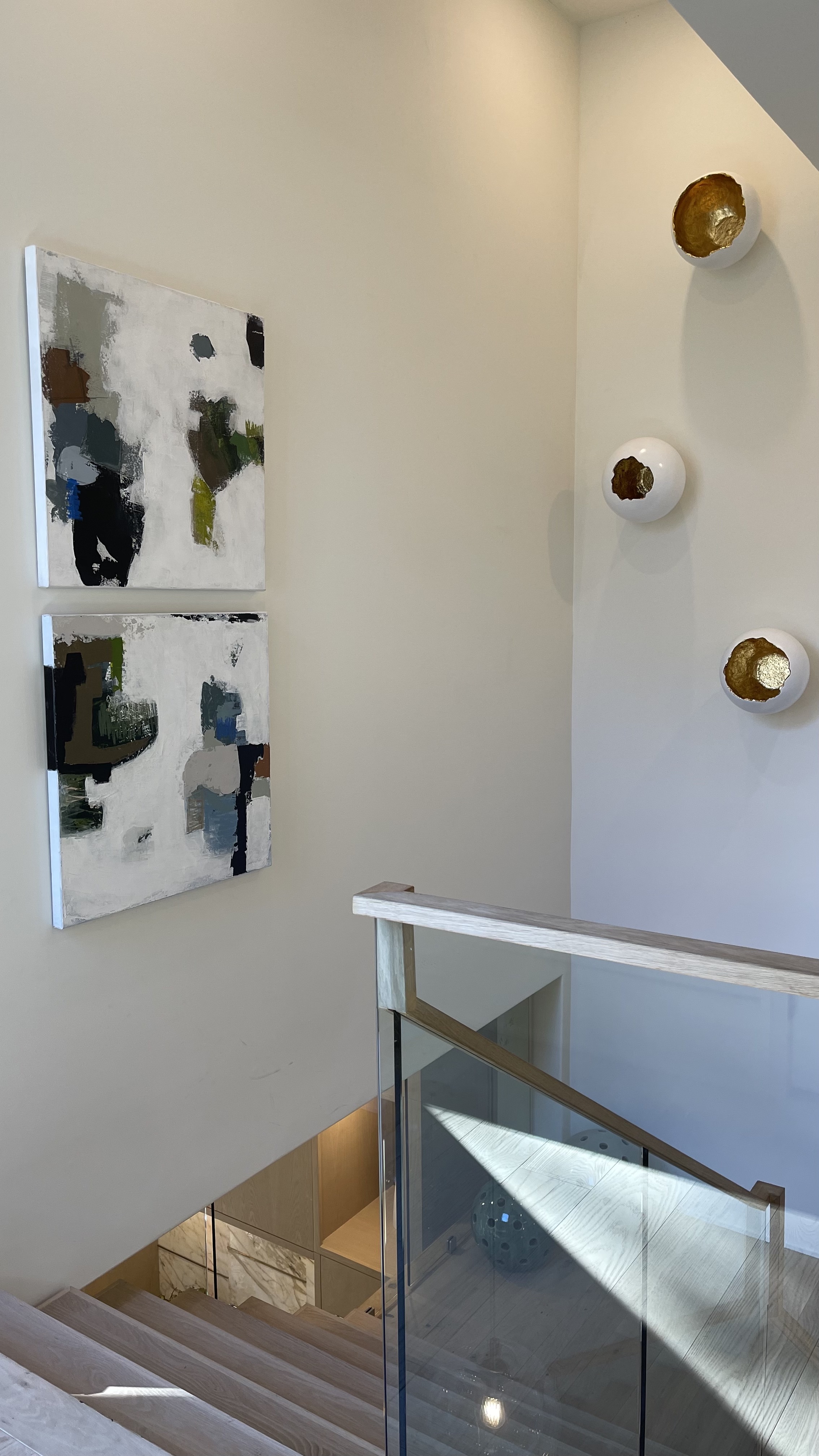 Enwright feels that art and interior design inspires each other; once they are brought together, there is an "explosion." "When an artist creates a piece and a designer sees it, it inspires them to pull an aspect such as a color out in a space," she said. "It can go the other way by the theme of a space dictating what art is selected." Enwright adores working with dk Gallery because of how passionate Donna Krueger is about her artists as well as designers seeking to fill spaces with art. Places like dk Gallery encourage that special synergy of the art and design communities and they vow to always support each other. It serves as a beautiful connection of both worlds.
The Serenbe Designer Showhouse is an annual event, so don't miss the opportunity to experience beautiful, fresh home design next year! Also, don't forget to stop by dk Gallery for our upcoming "Best of dk Gallery" show.