Kevin Chambers: His Sculpture, Your Story
3/4/2021
Written by Molly Brown, Video by Harrison Meyer
In a spacious studio surrounded by majestic forms of numerous shapes and sizes sits Kevin Chambers on a work stool. Sporting a flannel with a glass of Tito's vodka and lime in his hand, one would not quickly surmise the great accomplishments this down-to-earth sculptor has under his belt. At a fairly young age, Chambers has already established a name for himself in the sculpting world by teaching classes, collaborating with various corporate partners, and exhibiting his work in museums such as the Smithsonian Museum of Natural History. Chambers maintains his modest nature and accredits his success to sheer determination and the notion of never giving up. In addition to this, he states that he never wants to stop evolving throughout his career and is continuously looking to grow.
Chambers grew up in Blairsville, a very small town in north Georgia, where the influence of art was in somewhat short supply. He recounts that as soon as he could hold a pencil, he was drawing; the innate creativity was always present, however, Chambers did not know art was something he could pursue as a living. This was until an artist by the name of Colleen Sterling retired to Blairsville and put an ad in the newspaper offering private art classes. Chambers' mother saw this as an opportunity for her then 12-year-old son to get exposure from outside their rural town and she enrolled him. Sterling was able to teach him not only the basics, but the technical side of art as well; this included taking commissions, handling contracts, and building a website. Chambers states that this experience helped him realize that he could actually make a career out of his art and he worked with Sterling until he graduated high school.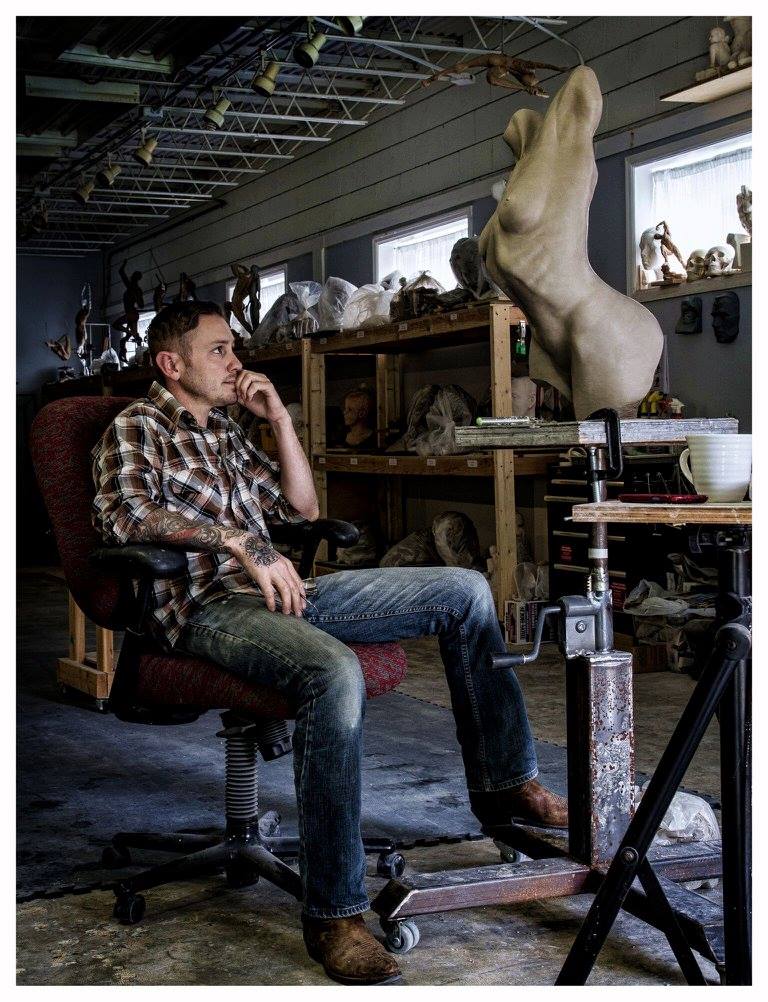 Upon attending the Art Institute of Atlanta, Chambers decided to major in Media Arts and Animation. If one has ever heard the saying, "Your major does not determine your career," they can look to Chambers as a reference. Ironically, he never took a single sculpture class during his college years and was instead an aspiring computer animator. One day, his professor pulled him aside and took him to a computer lab where some animators were working. Chambers remembers how dim and sad the room looked to him; his professor informed him that these animators had been working since 8 a.m. and they would be there for another 14 hours. Once Chambers saw that this is what it took to be an animator, he and his professor concluded that he was not cut out for that career. Following this, the professor suggested that Chambers come to a live drawing class, bring some clay, and see what happens. Once he was able to take the clay and make an idea into a true form instead of a digital one, that was it clicked for him. Despite realizing that animation was not his passion, Chambers is thankful for the courses he was able to take under this major as they ended up helping him in alternative ways within his career. He believes his background in animation has helped him maintain a certain motion in his sculptures rather than having them appear static.
Regarding his style, Chambers says he never wants to make every sculpture of his look a certain way. He recounts that he used to be very concerned with style, but has come to believe that if one thinks too much about the finished product, they will completely miss the experience of creation. The majority of Chambers' sculptures consist of the human form as he believes it is a universal language and is boundless in what it can express. He is fascinated by all shapes, sizes, and colors as well as the honesty they convey. He laughingly stated he may get in trouble one day as he likes to observe how people stand in public when they are under the impression that nobody is looking at them; his people-watching hobby clearly comes across in his work and almost takes one by surprise in how realistic it is. With that being said, Chambers is not the type to stand by his work and tell people the story behind it, but rather, wants people to take whatever they want from it and form their own story. One of Chambers' most iconic pieces depicts a woman who is curled up into herself and makes the viewer believe that she is hiding from something. Chambers recalls when he first thought of this piece during a time in his life when everything seemed to be turned upside down. He sketched this balled up figure to express the feeling of wanting to hide from everything. It was not until a few years later after he came out of this dark place that he revisited this idea. Acknowledging the fact that he grew from his difficult experiences, he decided to slightly alter the piece to match his renewed perspective. While the woman may essentially look like she is pulling in on herself, one can turn the piece to the other side and see her eyes are open; hence, she is in fact opening up and emerging from that hiding place. Chambers fittingly entitled this piece "Awaken" and he believes this piece is the one that best portrays his own story as a sculptor. However, he wishes for everyone to be able to find their own story through his work and hopes pieces like this touch someone who may be in a similar place.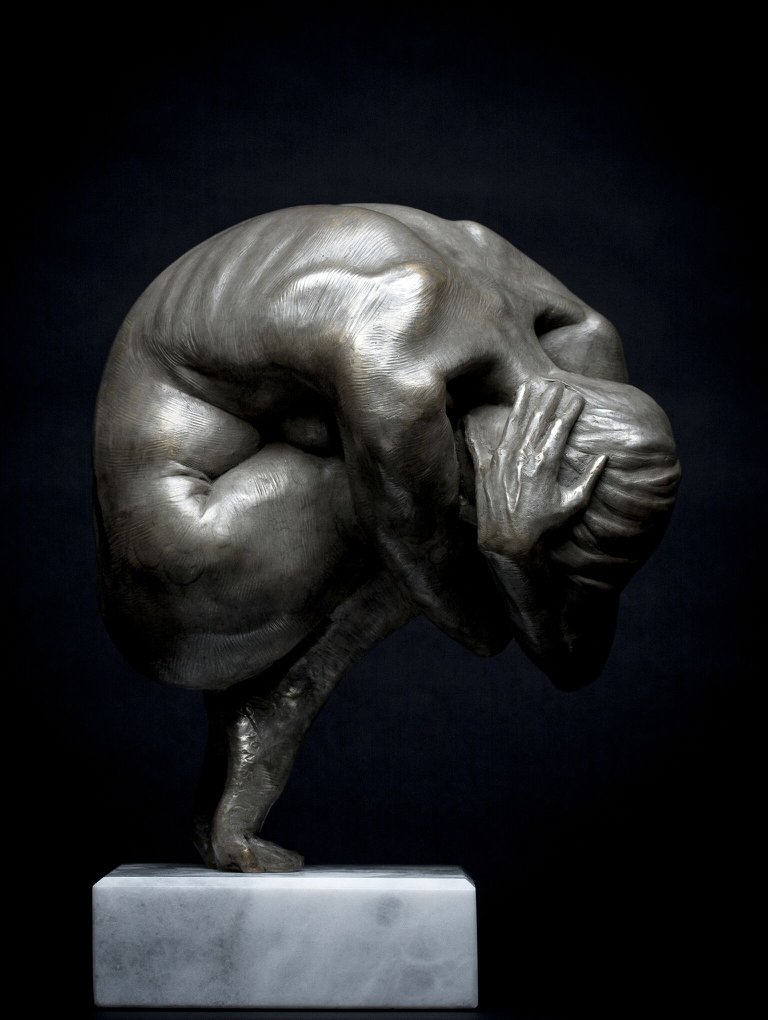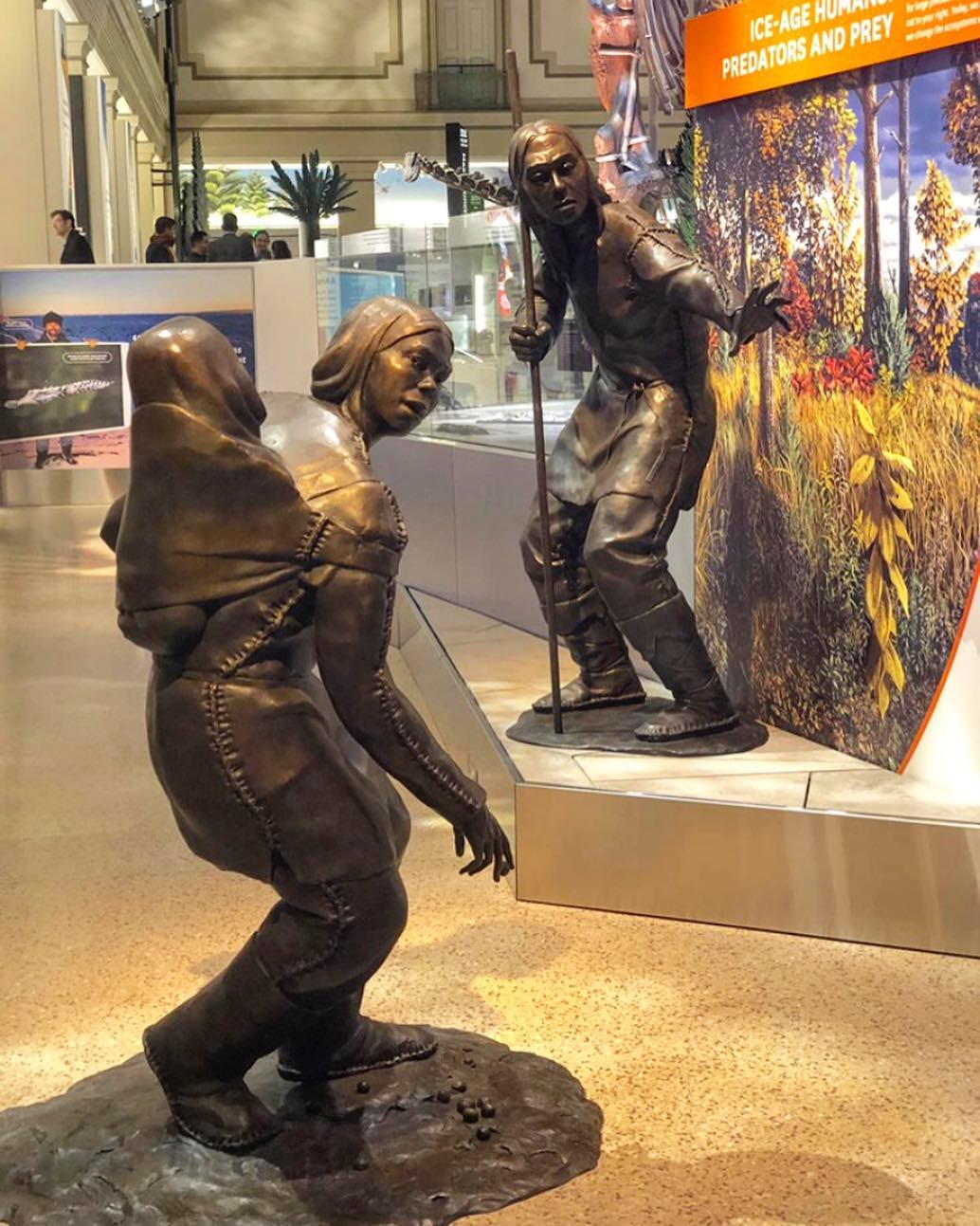 Over the years, Chambers has been able to exhibit his work in galleries and museums all over the world. However, a particular experience that sticks out to him is when he was given the chance to put his work in the Smithsonian Museum of Natural History. Upon getting a recommendation from a fellow sculptor, Chambers received a call from the reputable museum asking if he would be willing to do two bronze life-size pieces for one of the exhibits. Despite his excitement, Chambers was wary due to the stringent timeline he was given; he received that call in January and the museum would need the completed sculptures by June. A bronze life-size sculpture usually requires three to four months at the foundry, meaning Chambers had approximately a month to do everything he needed to within the sculpting process. However, through hard work, cooperation, and the occasional phone call with the president of the Smithsonian (no big deal), Chambers was able to deliver both sculptures a week early. Having his sculptures in the Smithsonian is incredibly special to Chambers because he remembers how moved he was by seeing sculptures in museums as a child. If a child could have the same experience with one of his sculptures then that is a whole other level of human interaction for Chambers. One of the sculptures is of a woman carrying a baby on her back; due to Chambers aspiring to always add personal touches to his work, he used his friend's baby as the model. Apparently, it has become somewhat of a tradition for people to rub the baby's head for good luck upon entering the exhibit. Chambers contentedly reveals that the grandfather of the baby will sit in the museum and proudly proclaim that it is his granddaughter as people touch the sculpture. Through this piece, Chambers has been able to interact with people from all over the world. Due to COVID-19, he has yet to see his own work in the Smithsonian, but looks forward to the day he can go see it for himself.
Apart from exhibitions, Chambers keeps himself busy with corporate clients. The process behind this is different in how collaborative it is. The intended design is usually set in stone before the sculptor is hired; the artist does not always get as much creative liberty and timelines are strict. However, Chambers appreciates this side of the art world because it is good business and it gives him a chance to practice quality time management- he likes to think of it as his day job. In addition to this, Chambers has dedicated a good chunk of his career to teaching sculpting classes out of his studio. It has been the first time in 22 years that he has not been a student or a teacher due to the pandemic. Having been teaching classes before he even graduated college and starting a studio based on teaching, solitude has been quite an experience for Chambers. He finds that when teaching, he sometimes ends up learning more than the students do. Approaching teaching on an individual basis, he wishes to guide every student to create their own unique interpretation so they can leave the class knowing they made something distinctive to themselves. Teaching helps Chambers with his own work in the way he can work through a problem multiple times with his students and then apply it to what he is doing himself. He adores the diverse community his classes provide; his students have spanned from four-years-old to 93-years old and they come from various backgrounds. He is constantly inspired by his students and cannot imagine not being able to share his craft with others. He remains optimistic about the return of in-person classes and anticipates seeing his students again.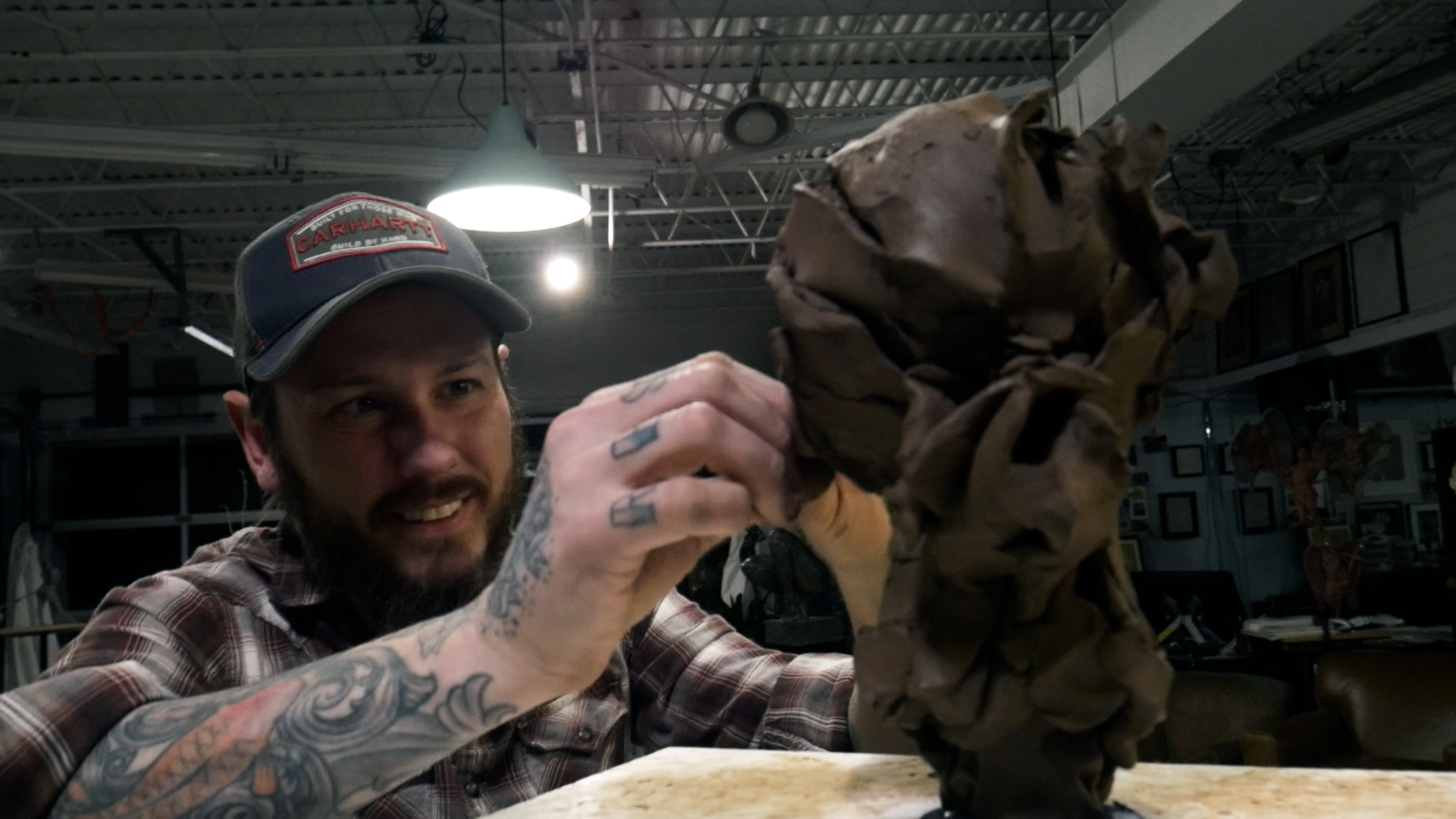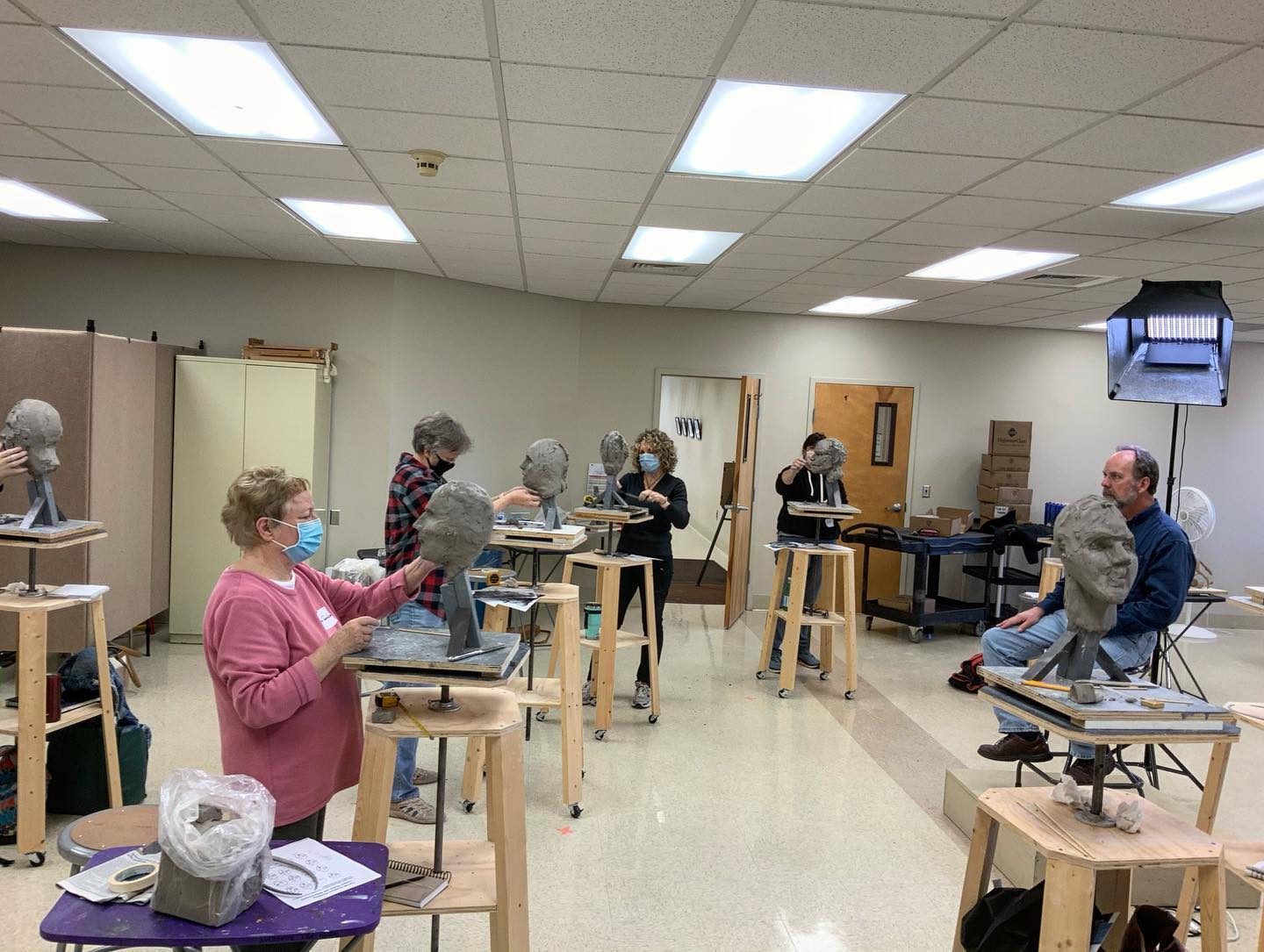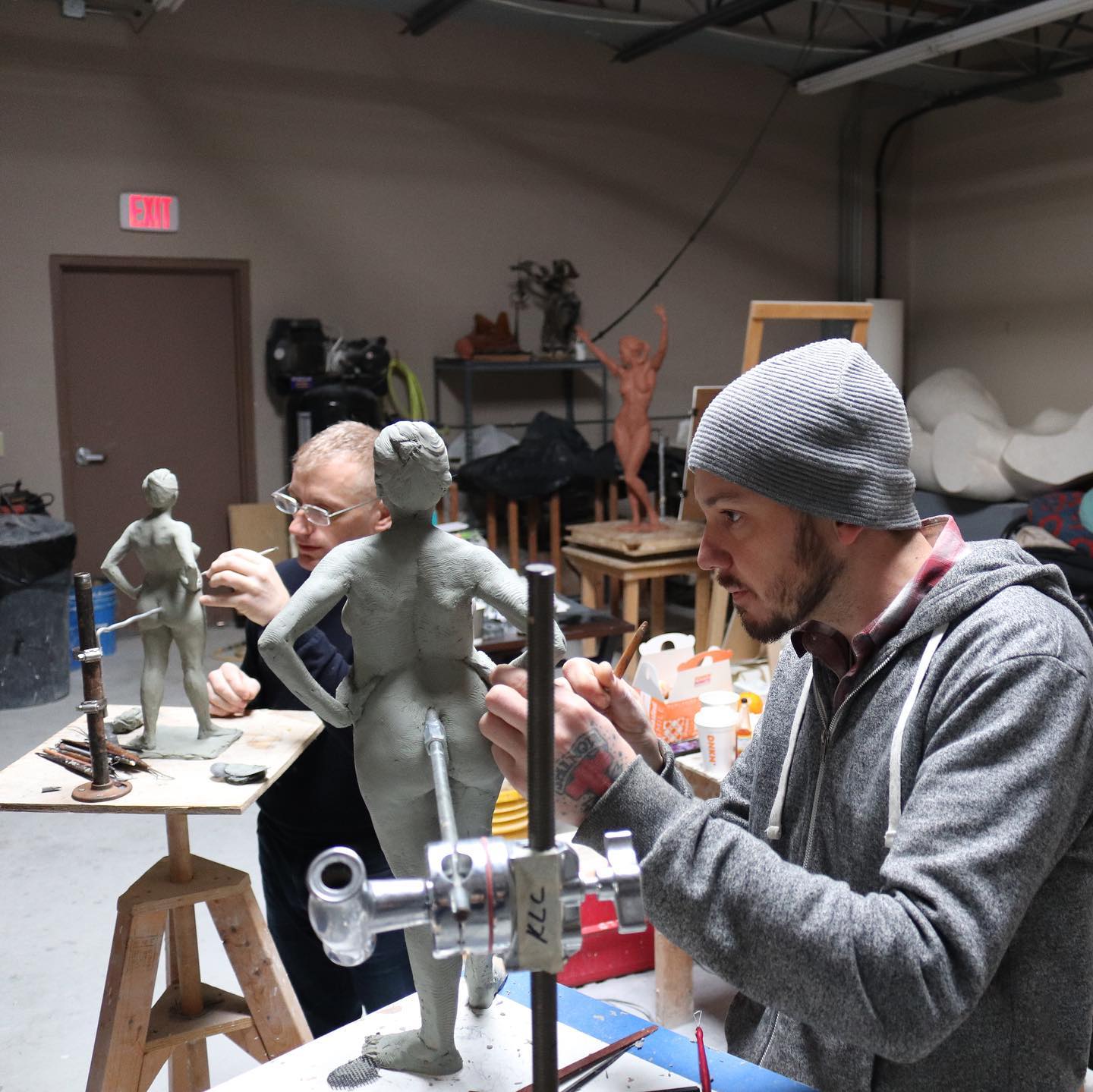 The destined encounter of Chambers and dk Gallery was through a recommendation from a mutual friend and sculptor Barry Henderson. At the time, Chambers was working out of a small, detached garage in Midtown Atlanta. Donna Krueger, owner of dk Gallery, was interested in seeing his work and asked to do a studio visit. Chambers noted that it was in the middle of January and there was no heat in his studio. Upon uncovering his new work, he realized it had become frozen solid clay to which Krueger asked if this was normal; slightly panicking, Chambers replied, "Of course!" Fortunately, they ended up having a wonderful conversation about the not-frozen work and Krueger asked him to put his pieces in the next figure show that February. Chambers has loved being able to grow with dk Gallery; he states how important the gallery and artist relationship is and that he continuously has complete trust in dk. He has been thankful to have done some custom commissions for dk Gallery's collectors, one including the focal piece in the corporate office of Brasfield & Gorrie. When making a piece for a company that has built half the buildings in Atlanta, Chambers was understandably a little on edge. However, the executives were in favor of the ideas Chambers and Krueger pitched; the challenge of creating a piece that was more out-of-the-box was a welcome one. Chambers appreciated that they wanted him to use real tools for the project rather than creating faux pieces and he was able to put his all into the work. He cannot help but feel a connection to Brasfield & Gorrie and hopes to do more pieces for them in the future. Regarding Chambers' work in dk Gallery, he has been able to unveil some new work of his for the figure show this past month. He goes on to say that he thinks it would be fun to one day have a show consisting only of his sketches that have never been shown before. He is always excited to show new work with each figure show at dk and he is interested to see where it will take him in the future.


Needless to say, Chambers prefers to keep his work close as he resides right above his studio with his wife and three dogs. His wife, Lauren Chambers, is a flourishing photographer and they are, without a doubt, the creative power couple. Their work intermingles in the way she manages the studio's brand and social media presence. She generally photographs all of Chambers' work as every photo on his main website is from her camera. The couple are also very loving dog parents; their dogs are usually present in sculpture classes or roaming around the studio. Chambers enjoys sculpting animals but does not do it as often as humans. He believes there is emotion that can be portrayed through animals as he sees it in his dogs, however, capturing it as sculpture is very difficult. He explains it by saying it is easy to make something look like a dog, but very difficult to make it look like your dog. Being able to try and find this emotion is what fascinates him about making animal sculptures and he is always open to making more in the future.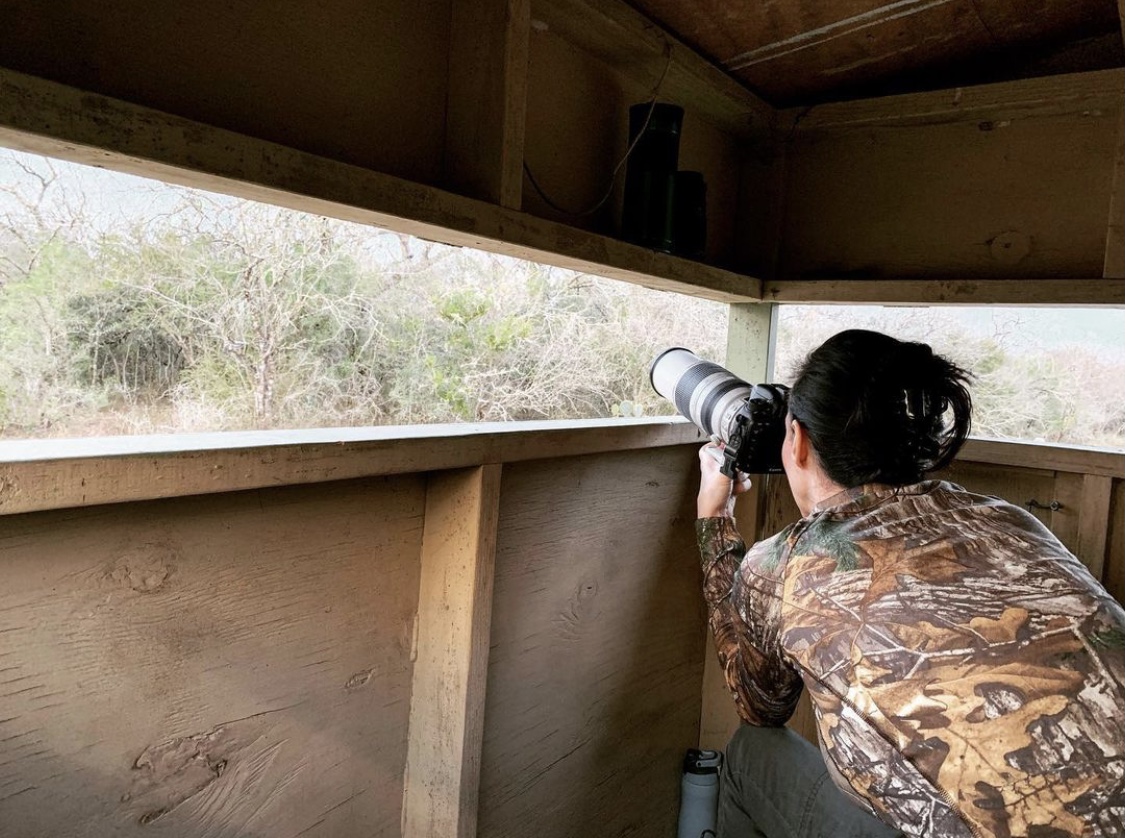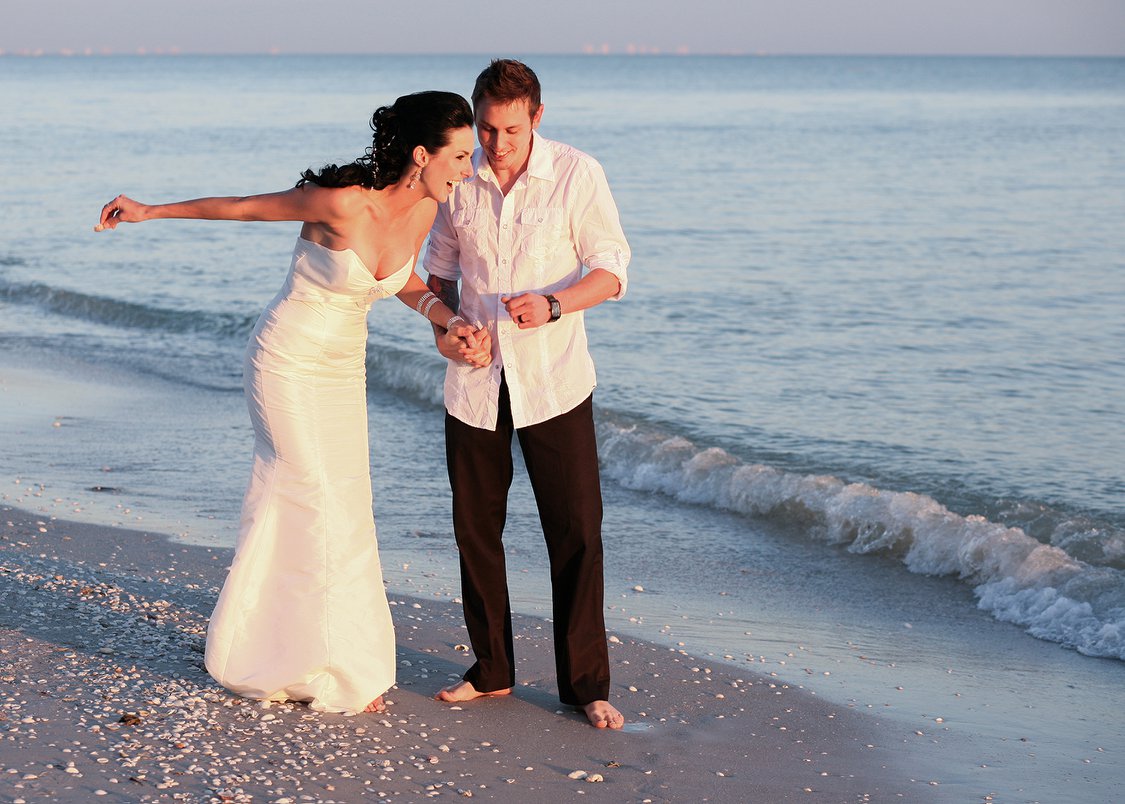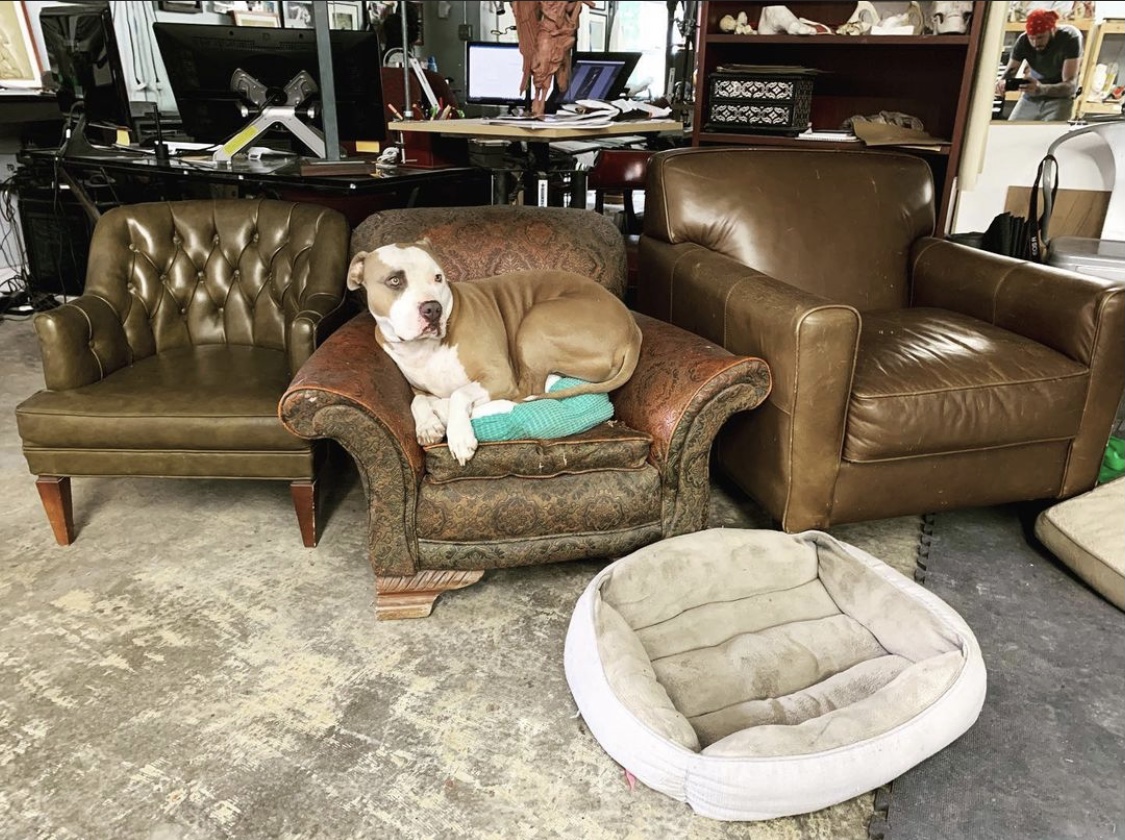 As mentioned previously, Chambers is quite young considering the achievements and experiences he has had. He is able to provide some wisdom to younger people pursuing any career, not just art. His grandfather once told him that if he did not have something, it was nobody else's fault but rather the result of him not working hard enough; do not look to blame anyone else, but instead work hard and make it happen. Chambers took this advice to heart when it came to going after what he was passionate about. While working in multiple jobs, he swept the floors in an art studio for free for a year just so he could eventually become an apprentice there. Chambers says that he ended up where he is today because he did not give up on what he loved and he did not expect immediate results; in the art world, one can put in an endless amount of time and still may not get an instant reward. At the end of the day, Chambers believes that if one has identified what their passion is, they need to be willing to make sacrifices, learn tough lessons, and keep moving forward. Chambers acknowledges that he could not live without sculpture and that he even takes it on vacation with him. To be able to make a living out of something he cherishes so greatly makes all of the bad days and sacrifices worthwhile to Chambers. He hopes others, much like his clay, can be shaped through challenges and that they too can experience this kind of fulfillment within their own career.