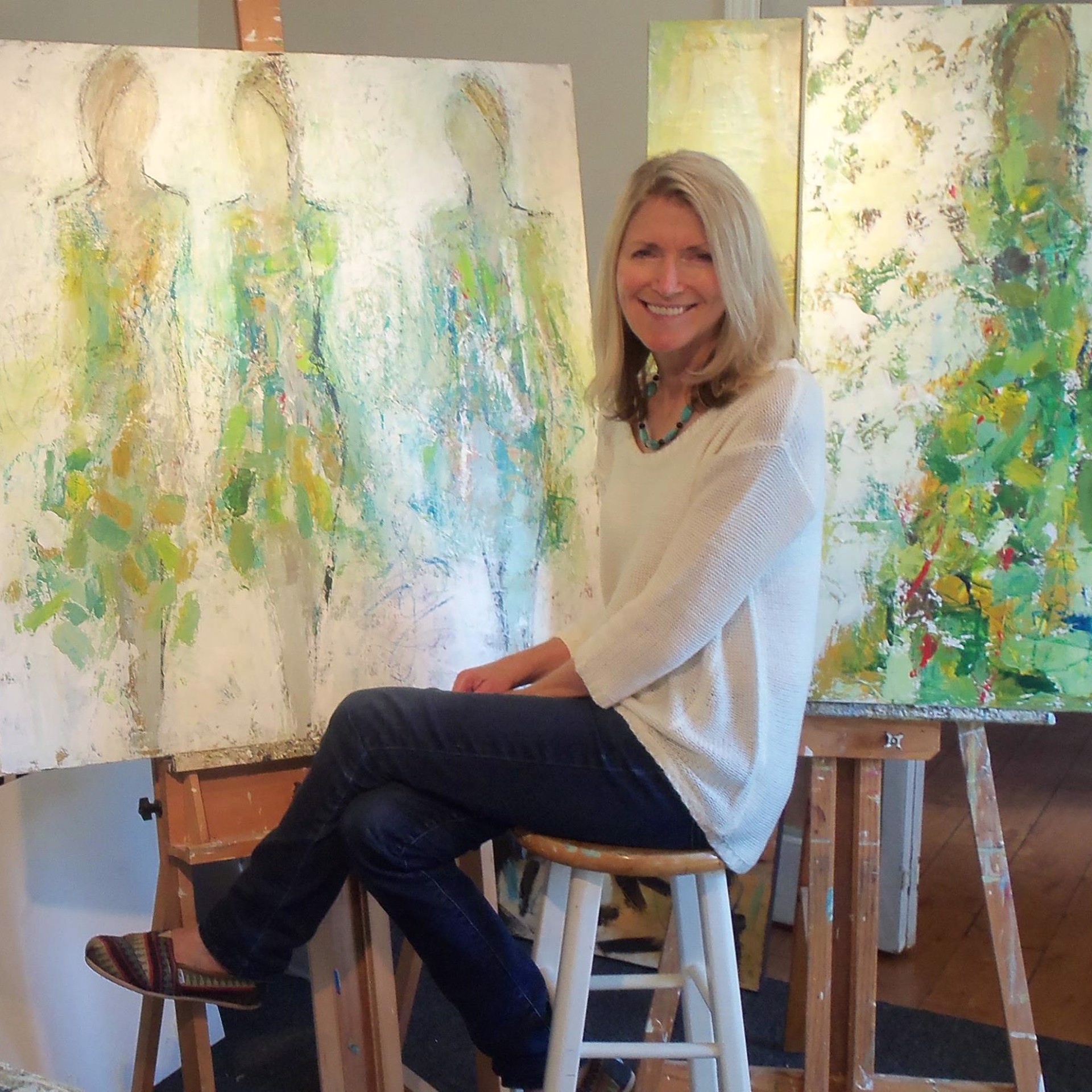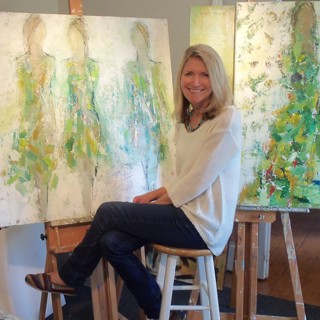 Artist Statement: Fashion and design inspire me. When I was a child, I used to love to watch my mother, a fashion illustrator, draw beautiful women in elegant dresses. Today, the figure and dress have become my creative voice, my way of expressing emotions using the language of color, line and composition. Figure drawing feels like home to me, connecting me with my history, my first desires to create art. Sketch books fill my studio and sketching every day is an obsession!
I love the concept of taking a fashion illustration and elevating it to a large scale, fine art painting on canvas. I paint with modeling paste, gel mediums, acrylics and oil paint using spatulas, brushes and palette knives. My works on paper are evidence of my love of line drawing, pen and ink.
In the end my figure paintings are more about emotion than anything else. I search for the girl that lives within me, searching for ways to paint her feelings and emotions. I always come back to her. That is why I paint.

Artist Background: As a child, my earliest dream was to be an artist. At age 11, I was accepted into Carnegie Institute, studying under Pittsburgh's legendary art teacher, Joseph Fitzpatrick, whose list of famous students include Andy Warhol. Four years later, I was awarded a scholarship to Carnegie-Mellon University's fine arts program for pre-college students.
Over the years, I've attended many classes, workshops and figure drawing sessions. Now I'm at the point where I'm more concerned with drawing and painting what's authentically me than having outside influences.
After being diagnosed with a chronic illness in the 1990's and being forced to leave my job, it was my passion for drawing and painting the human figure that gave me hope and a new life. Today, my husband and I are both artists and have studios in our home in Roswell, Georgia.
Recent Exhibits: dk Gallery "100 Years of Fashion 1920-2020," Solo Exhibit, Atlanta, November 2019, dk Gallery "The Art of the Dance" Solo Exhibit, Atlanta, Nov. 2017, dk Gallery "Mademoiselle," Solo Exhibit, Atlanta, Nov. 2015, dk Gallery, "Romance of the Figure & Nude," Atlanta Feb 2014- 2019, Lyons Share Gallery "Exceptional People," Solo Exhibit, Oct. 2013, dk Gallery, "Body Language", Solo Exhibit, Atlanta, March 2013, dk Gallery, "Felicity" 2 Person Exhibit, Atlanta, March 2012 Loretta Goodwin Gallery, "Figures," 2 Person Exhbit, Biermingham, AL, September 2010 Lagerquist Gallery, 2 Person Exhibit, Atlanta, GA , January 2009 Atlanta Gallery Association, ATLart Arthouse, January - February 2009 Lyons Share Gallery, Solo Exhibit, Lighting of the Trees, Fairhope, AL November 2008 Lagerquist Gallery, 3 Person Exhibit, Atlanta, GA, June 2008 Lyons Share Gallery, Solo Exhibit, Fairhope, AL, September 2007 Vue d' Art, 3 Person Exhibit, Pensacola Museum of Art, January 2007 Pensacola Museum of Art Juried Exhibit, Pensacola, GL 2006 Mobile Museum of Art, Saltline Biennial Juried Exhibit, October 2005 Gardner Gallery, 3 Person Exhibit, Atlanta, GA, July 2005 Art Education: Figure Drawing, Fairhope, AL Eastern Shore Art Center, 2005-2008 Figuratively Speaking, Roswell, GA, Weekly Figure Study, 2002-2005 Figure Drawing & Painting, Roswell, GA, Visual Arts Center 2000 Art Institute of Pittsburgh, Fine Arts Program 1976-1977 Carnegie Mellon University, Pittsburgh, Fine Arts Scholarship 1972-1974 Carnegie Institute of Pittsburgh, Fine Arts Program 1969-1972
Read More